I'm a new momma who loves my little family, crafting, and sharing my passions with others. I'm recently new to the blogging world and am having such a wonderful time learning from others and getting to share my new journey through mommahood and my crafting ventures!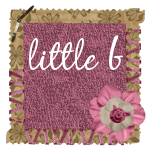 Come visit me at little b and check out more of my life!!!



AMANDA, THANK YOU FOR THIS GREAT TUTORIAL!!! I love this idea and see so many possibilities. I love the thought of doing a couple different colored paintings of the same picture to match the color of my daughter's room and hanging them side-by-side! Darling.
Go give a shout out to Amanda at little b.