Hello Crafty Friends! I am thrilled to be guest posting while Michelle is enjoying some R & R with her family. Oh, Wow! let me introduce myself: I am Pamela, I blog at
about quilting, crafting and the yummy things I make in my kitchen. I am lucky enough to live in Utah with my three sons and my creative husband. Right now we are enjoying the most beautiful indian summer; the leaves are about to change and fall harvest is at its peak. Oh, my heck! what's not to love?!?

I wanted to share an easy and dirt cheap Halloween craft. Once you see how easy it is you'll be raiding your neighbor's garages to make more. I know, I've done it!! (Crap, that was a secret) I digress; let's make a :


Who doesn't have a few of these laying around?!?


Step 1: Find a almost empty paint can. Clean out remaining paint and remove wrapper.



Step 2: Paint Can. I did 3 light coats of paint, letting each dry before applying the next coat. It was a warm afternoon so each coat only needed about 15 mins. Don't forget the inside too!


Step 3: Pick an image. I used an old
Susan Branch
Calendar. I love her illustrations, and this little vignette of children trick or treating was perfect.


Step 4: Mod Podge the image onto the paint can.

Step 5: Stain over the entire can, image and all to get that fun, aged look.


Step 6: Fill with something festive and enjoy.

Every year I put out my Halloween Cans and fill them with different things: fresh flowers, fake flowers, candy, dollar store decor etc. In the past, I've filled the can with something special and given them away to neighbors, teachers, and friends. This year, I think I'll be giving away
cinnamon swirl bread
,

the opening looks just big enough.

I'd love for you to stop by
Frenchknots
and say hello. You'll find lots of quilty and crafty goodness. Check out this
quilt top
I recently finished ~ I am so in love with it! Once you've made the Halloween Paint Can check out these other super cute Halloween crafts:

P
olka Dot Pumpkins
and a Halloween
Countdown Calendar
for your little trick or treaters.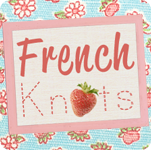 XOXO, Michelle. Someday Crafts is the best!
THANKS, Pamela! I love it when a person turns garbage and junk into something adorable. These paint cans look so cute with the fun prints and flowers! What a great display for fall and Halloween. Visit

French Knots

today!